Where is Pila?
Situated in Laguna, a lush and fertile area south of Manila, the historic town of Pila with its rich culture heritage is located only 70 km from Makati via the South Super Expressway.

Once the proposed road bypass of Calamba and Los Baņos is finished, the drive to Pila will be only a little bit more than half an hour from Makati (cutting travel time by 50%).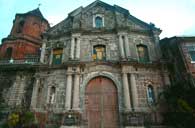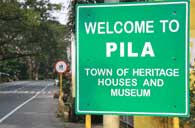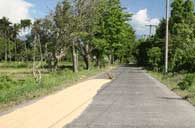 HOW TO GET THERE

There are two points of entry to Laguna from Manila. Via the southern route, the South Expressway is the main artery to exit through San Pedro, Biņan, Santa Rosa, Cabuyao and Calamba. Major bus companies ply the generally developed and well-maintained provincial road from Metro Manila. JAM Transit, HM Transit, Green Star Transit terminals can be found along EDSA and at Buendia, Pasay City.

Via the eastern route, pass through the towns of Antipolo or Tanay, Rizal to reach the 4th district or upland towns of the province. This route gives motorists a panoramic view of Laguna Lake and its environs along a picturesque highway. From EDSA-Mandaluyong, take a bus going to Tanay, Rizal, and then take a jeepney to Siniloan, Laguna.

The province is also accessible from the progressive provinces of Cavite, Batangas and Quezon, as well as from the resource-rich provinces of Marinduque, Mindoro, Palawan, and Romblon, through the Batangas and Quezon ports.
Getting Around the Place
Commuting within commercial areas like Santa Cruz, Los Baņos, Calamba, Pagsanjan, San Pablo City and San Pedro is easy, as there are plenty of public utility vehicles, such as jeepneys, buses, and tricycles that shuttle passengers from town to town.

However, it is advisable to take a rented car or ones own vehicle when going to the in-land tourist spots like Alaminos, Majayjay, Cavinti, Liliw, and Nagcarlan as there are few public utility vehicles that ply these areas.