Why should I buy a house in Pila, Laguna?
When it comes to investing in properties, location is what counts. Pila is the right investment choice for your new family home.

Pila is near the invigorating Los Baņos Hot Springs, Pagsanjan Falls and a multitude of other resorts.

Close to Enchanted Kingdom, it is also ideally sited in close proximity to the windsurfing haven Lake Caliraya and other attraction and scenic spots.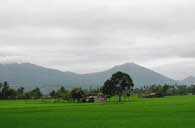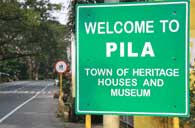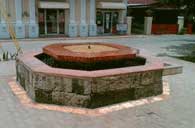 Why Choose PILA?

Transportation

Major bus companies ply the generally developed and well-maintained provincial road to and from Metro Manila. From five o'clock in the morning to ten in the evening, three buses pass through Pila's national road every fifteen minutes. The following companies maintain transportation lines from Pila to Makati, Cubao, and Manila: Tristar, JAM Transit, HM Transit, Tritan Transit, and Green Star Transit.

Safety & Security

Your home will be surrounded by a secured perimeter fence and a security guard will be on standby 24 hours a day. A lighting system with posts has been installed ensuring good lighting and a working underground drainage system complete with a centralized water supply creates a clean, quiet hassle-free environment.

Fun & Entertainment

A few minutes drive from your house, a selection of restaurants abound. You'll be close to a sports club with its own swimming pool, and a park & playground will be built in the second phase of Pila's development. Relax and enjoy Pila's welcoming mediterranean atmosphere in the benefits of a tropical environment.

Building & Grounds Summary

First Phase: 210 units, townhouse complex Second Phase: 500 units, townhouse complex Third Phase: 800 units, townhouse complex Spacious 2-bedroom townhouses Private, gated parking lot provides 1-2 assigned spaces per apartment 24 hour guard/building attendant Storage available 67.5 sqm total floor area Bright, open interior spaces Concrete flooring areas with modern epoxy finish




Pila Townhouses is ideally close to all places you'll possibly need to live comfortably -- roads and highways, public market, hosptials, schools, and churches to name a few.

Your home at Pila Townhouses will be approximately 1km away from the national highway, which guarantees easy access to public transportation at all times. It will be a twenty-minute drive away from one of the best hospitals in the Philippines, Asian Hospital. The following medical institutions will also be easily accessible from your location: Holy Family Clinic (Sta. Cruz), Laguna Doctors Hospital (Sta. Cruz), Laguna Provincial Hospital (Sta. Cruz).

The historical Pila Church, one of the oldest churches in the country, will also be approximately 1km away from your home. Quality education for your family will not be a problem because of the site's proximity to the following educational institutions: San Antonio De Padua (Primary and Secondary), Collegio Monterey De Pila (Primary and Secondary), Liceo De Pila (Primary and Secondary), Union College of Laguna (Primary, Secondary, and Tertiary), Don Bosco High School, Laguna School of Polytechnic College, and AMA Computer College.